What Are the Real Issues with Student Loans?
Champion Empowerment Institute has received hundreds of essay responses to a question about student loans that will give you enlightening insight into the issues and ideas for proactive solutions.
MARY LYN HAMMER
CEO,  education advocate, and entrepreneur offers a 312-page report with compelling evidence of inaccurate information in higher education reporting and sector-level performance.
We urge you to examine the facts and analysis presented in Injustice for All.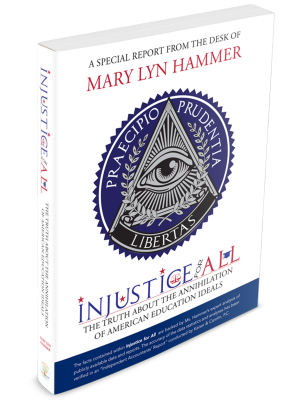 ✔ VERIFIED
The facts contained within Injustice for All are backed up by Ms. Hammer's expert analysis of publicly available data and reports. The accuracy of the data statistics and analyses has been verified in an "Independent Accountants' Report" conducted by Kaiser & Carolin, P.C.
---
 2013 U.S. Government Profit
on Student Loans 
Totaled $41.3 Billion
Injustice for All is a special report that takes readers on a journey which began in 1987, explaining why funding drives education laws and regulations. The residual effects of the battle over funds have led to data manipulation and inaccurate reporting to support misguided beliefs and agendas that have little to do with educating America and point to keeping the profits from student loans in the U.S. government general fund.
Publicly available reports based on this manipulated data are designed to sway public opinion about higher education by hiding the truth about the prevalence of substandard performance at non-profit public institutions while hiding the fact that over half of all for-profit institutions have default rates under 15%, are high-performing and provide essential training to at-risk students.
This special report offers facts, evidence, and offers logical solutions to reverse the defaults for innocent student borrowers, ideas to improve accountability, and implementable standards that protect students, schools, and the federal fiscal interest.
Order Now!
---
Curious? Explore the Following...
---
Definition of Latin Terms in Seal
Libertas: freedom, liberty, independence/frankness, candor
(University of British Columbia)
Praecipio: to instruct, advise, warn, anticipate
(University of British Columbia)
Prudentia: foresight; knowledge; sagacity, discretion
(University of Notre Dame)
---